ARTH 102
Art History II. 3 Units
Prof. Gerald Guest
MWF 10:35-11:25
An introductory course exploring the visual cultures of Africa, the Americas, Asia and Europe from 1400 to the present. Special emphasis will be placed on visual analysis, historical and sociocultural contexts, and an introduction to issues in the study of art history and the institution of the museum. We will also focus on various methodological approaches to the history of art, such as gender, class, colonization & decolonization, and globalization as we trace the stories of art and its creation. We will look at a diverse range of objects and monuments, emphasizing their functions, forms, and historical and cultural contexts. Students will gain a deeper understanding not only of individual works of art but also of the cultures that produced them, and we will consider the relevance of the past to our own culture today. This class will take advantage of the rich collections of the Cleveland Museum of Art with weekly sessions in the galleries. Counts as a CAS Global & Cultural Diversity course. Counts as a Human Diversity & Commonality course. Counts as a Understanding Global Perspectives course.
Embodied Religion and Mixed Reality
Prof. Maggie Popkin
T 1:00 pm-3:30 pm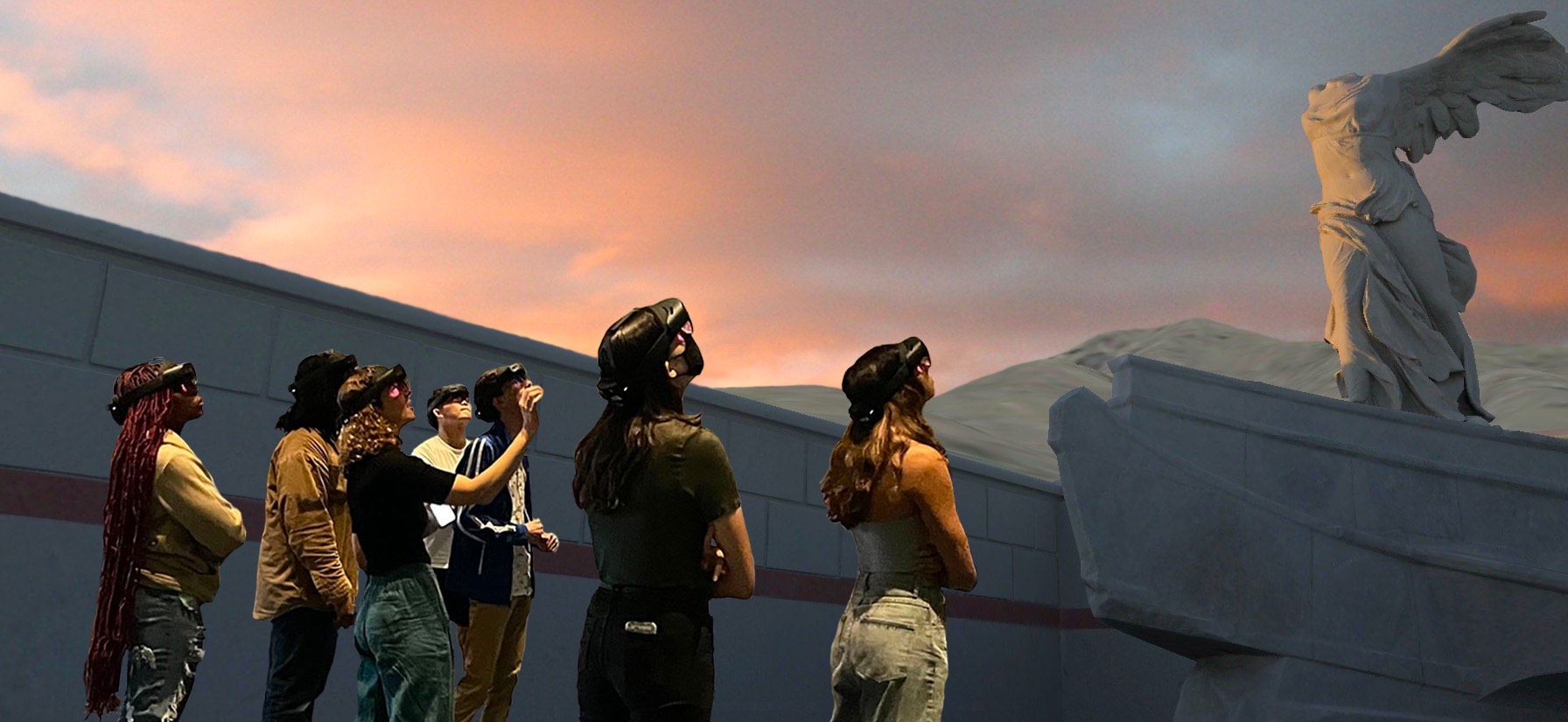 If you've played Beat Saber, visited Facebook's Metaverse, or experienced virtual flight on the Avatar: Flight of Passage ride at Disney World , you have experienced extended reality (XR): immersive technologies that blend "real" and virtual worlds or create wholly virtual experiences. While these technologies have exploded onto the market in recent years, this blending of the real world with imagined, or virtual, worlds has been fundamental to sacred spaces since antiquity. This course explores this intersection between sacred space and extended reality. Working in groups and with the conceptual and technical support of the Interactive Commons (IC), students will use HoloLens technology to create a mixed reality model of a sacred site. Through hands-on experience that combines art history, religious studies, and programming and digital modeling, students will confront the technological and interpretative challenges that structure the XR experiences they encounter in their daily lives. Students will have the opportunity to study and conduct photogrammetry in person on objects in the Cleveland Museum of Art (CMA), visit existing HoloLens models of sacred sites in Greece, Egypt, and Cambodia, and attend workshops with IC staff.
ARTH 307/407
Arts of China
Bo Liu
TTH 2:30 pm- 3:45 pm
ARTS/ARTH 309/409
War Games
Steve Ciampaglia
TH 7 pm-9:30 pm
This course examines the longstanding and symbiotic relationship between the commercial videogame industry and the US Military, or what has been called the Military-Entertainment Complex. The first videogame, Spacewar!, was created by computer researchers at MIT in 1962, using nascent computer technology funded by the US Department of Defense. Since then, the commercial videogame industry has grown in tandem with—and partly thanks to—the US Military's development of computer and digital technologies. Today, military-themed videogames have come to dominate the gaming industry and gamer culture. Indeed, the ubiquity of these games has facilitated the US Military's recruitment efforts. Games such as America's Army and Call of Duty present seductive depictions of armed combat and military service and specifically target young gamers. Enlisted soldiers are trained for actual warfare on simulators that are nearly indistinguishable from games. The line between "real" and "virtual" combat has become increasingly blurred, further conflating war with fun and games, and eclipsing moral and ethical concerns about the relationship between technology and violence.
ARTH 333/433, CLSC 333
Ancient Greek Vase-Painting, c. 900-300 B.C.
Dr. Seth Pevnic
TTH 10 am-11:15 am CMA
This course will explore Greek painted pottery produced between c. 900-300 BC, a time of great artistic and cultural change. Although created as functional objects – especially for water, oil, and wine – and never considered the highest art form of their time, Greek vases survive in vast numbers, often decorated with figural images connected to ancient mythology as well as daily life. Moreover, thanks to decades of close study by generations of scholars (most notably Sir John Beazley), the names and artistic identities of hundreds of potters and vase-painters are now known, especially from Athens in the sixth and fifth centuries BC. These range from conventionally known painters such as the Berlin Painter and his (or her) student the Achilles Painter to those who sign their work, such as Nikosthenes and Douris (both represented in the Cleveland Museum of Art collection). Fewer names are known from other parts of ancient Greece, or from neighboring regions of present-day Italy and Turkey, but workshops and artistic personalities in these areas have also been well reconstructed. In addition to exploring this long and diverse history of artistic production, we will also consider related aspects, from ancient merchants and consumers to modern discovery, collecting, and study. Classes will include close looking and student presentations on multiple objects in the Cleveland Museum of Art, both in the galleries and in the Art Study Room. Course readings will include recent books and articles as well as early modern publications of Greek vases in the Ingalls Library and the Cleveland Public Library.
ARTH 349/449
Gothic Art: Glorious Visions
Prof. Elina Gertsman
TTH 11:30 am-12:45 pm
This course will examine the development and dissemination of Gothic art in Western Europe in the High and Late Middle Ages. We will consider a variety of media, including architecture, metalwork, sculpture, manuscript illumination, panel paintings, fresco cycles, and small devotional objects. As we study medieval art in its socio-historical contexts – private and public, monastic and political, liturgical and lay – we will pay special attention to issues of patronage, relationships between texts and images, the introduction of visionary and mystical devotion, attitudes towards education and authority, differences between male and female piety, modes of medieval viewing, and reception and manipulation of art by medieval audiences. Visits to the CMA will form an integral part of the course.
ARTH 396
Majors Seminar
Dr. Erin Benay
MW 3:20-4:35 pm
This course combines an overview of methodological approaches to art history with attention to pressing current issues and debates in the art world. Students will complete writing and oral assignments to engage with these issues that reveal and grow their participation in academic inquiry and pursuit of knowledge. This course is required of all undergraduate Art History majors and is offered in alternating spring semesters. It should be taken in the junior or senior year. It is a designated Disciplinary Communication Course. Disciplinary Writing (DW) courses introduce students to disciplinary & professional forms of communication, including questions, ethics, processes, and modes of response common to a specific academic discipline. 
ARTH 491B
Internship
Holly Witchey
ARTH 496
Materials, Methods, and Physical Examination of Works of Art
Heather Galloway
TH 1 pm-3:30 pm
ARTH 545
Medieval Manuscripts
Gerald Guest
W 1 pm-3:30 pm
ARTH/HUMN 565
Karamu House: Race and Printmaking in WPA-Era America
Dr. Erin Benay and Dr. Britany Salsbury
W 10 am – 12:30 pm
Initially founded as a settlement house in 1915 by two white sociologists, Russell and Rowena Jelliffe, Karamu House became an important community arts center in Cleveland, helping Langston Hughes get his start. Home to the Gilpin Players—a prominent Black theater group—Karamu House quickly became one of the best-known sites for Black culture in America. Karamu Artists, as Elmer Brown, Hughie Lee-Smith, Charles Sallée, and William E. Smith called themselves, were among the most prominent Black printmakers of the WPA era. Regardless, little has been done to contextualize these artists' work within the broader trajectories of Black Art in America or the history of collaborative printmaking. This seminar and the culminating exhibition at the Cleveland Museum of Art (scheduled for the James and Hanna Bartlett Prints and Drawings Gallery in early 2025 ) will unpack how these prints and primary archival documents of Karamu House, newly donated to the Kelvin Smith Library at Case Western Reserve University, can better help us understand the racially charged landscape of art-making in Cleveland—and, more broadly, the United States—during the 1930s and 40s. Students will have the opportunity to write didactics and artist biographies for the CMA exhibition and help to create an ArtLens tour for the show.
ARTH 571
Contemporary Seminar
Kathleen Barrie
M 1-3:30 pm