Click here to see courses from previous semesters
ARTH 101
ART HISTORY 1: PYRAMIDS TO PAGODAS
Prof. Maggie Popkin
MWF 10:35 – 11:25
What is art? Why have people from different times and places around the world made it? How can art help us understand history, and history help us understand art? This introductory course tackles these questions and more through an exploration of world architecture and visual arts from prehistory through the late Medieval period (ca. 1400 C.E.). We will look at a diverse range of objects and monuments, emphasizing their functions, forms, and historical and cultural contexts. Students will gain a deeper understanding not only of individual works of art but also of the cultures that produced them, and we will consider the relevance of the ancient and medieval worlds art to our own culture today. Classes will meet frequently in the Cleveland Museum of Art, allowing students to interact with artworks in person and develop skills of visual analysis, which are relevant to many disciplines and professions. Students will also have the opportunity to explore a mixed reality HoloLens model of an ancient Greek sanctuary and its monuments and sculptural dedications, considering how innovative technologies help us explore old artworks in new ways! No prerequisites.
ARTH 203
THE ARTS OF ASIA
Prof. Bo Liu
M W F 9:30 – 10:20
This course examines the roles of women in East Asian Art, with a focus on China and Japan. Course materials cover works of art from the 12th century BCE to the 1940s. We will study how women as patrons and artists used art to respond to various challenges and potentials in their lives and negotiate more social and political agency in societies that were often arbitrated by men. We will also study how images of women were invested with meanings and metaphors that speak for both men and women. Students are encouraged to take a gendered perspective and investigate gender differences in the creation, viewing, and interpretation of art objects.
ARTH/AMST 270
100 CENTURIES OF AMERICAN ART
Prof. Henry Adams
MW 3:20 – 4:35
A survey of American art, exploring the cultural and artistic diversity of America, from the first Native Americans who crossed the Bering Strait 10,000 years ago up to today.  The class will emphasize painting, sculpture, architecture and decorative arts but will also include discussions of literature, music, industrial design, and other art forms.  What does it mean to be American and how has this changed over the last hundred centuries?
ARTS 490A
VISUAL ART AND MUSEUMS: FINDING AND MAKING MEANING IN THE 21TH CENTURY ART MUSEUM
Prof. Holly Witchey
F 10 – 12:30
This course examines the idea of the art museum in both its historical and contemporary manifestations. The art museum is a rich topic; this course focuses on collecting, exhibiting, and interpretation practice in the United States with some forays into museums on other continents for comparative purposes.
ARTH/CLSC 336/436
REPRESENTATIONS OF WAR IN ANCIENT ROME (ARTH/CLSC 336/436)
Prof. Maggie Popkin
MW 12:45pm – 2pm
Few societies in history have been as militaristic as ancient Rome—or as proud of their warrior culture. This course examines the many ways that Romans constructed and contested their conceptions of war from the founding of the Roman Republic in 509 B.C.E. to the reign of Constantine (306-337 C.E.). Why did Romans choose to represent war in certain ways, and how did these artistic representations shape Romans' military values? What can the visual record tell us about how different groups (soldiers, women, slaves) experienced war in the Roman world? We will explore major public monuments in the city of Rome (including triumphal arches and the Colosseum) and private objects (such as silver drinking vessels) to observe how Roman militarism pervaded different walks of life. We will also examine monuments on the edges of Rome's empire, such as the towering trophies in modern France and Romania, to explore how works of art and architecture mediated the relationship between Romans and the peoples they conquered. Students will be encouraged to think about how art and architecture contributed to the construction of militarism as a chief Roman value, but also about how visual representations and monuments provided an important means to debate the value of Rome's military efforts, to subvert Rome's rigidly hierarchical social order, and to grapple with what it meant to "be Roman" as wars transformed Rome from a small city in Italy to a massive, pan-Mediterranean empire. After exploring Romans' conceptions of war and victory, students may also ask whether the common comparison between the Roman Empire and modern America is appropriate. No prerequisites.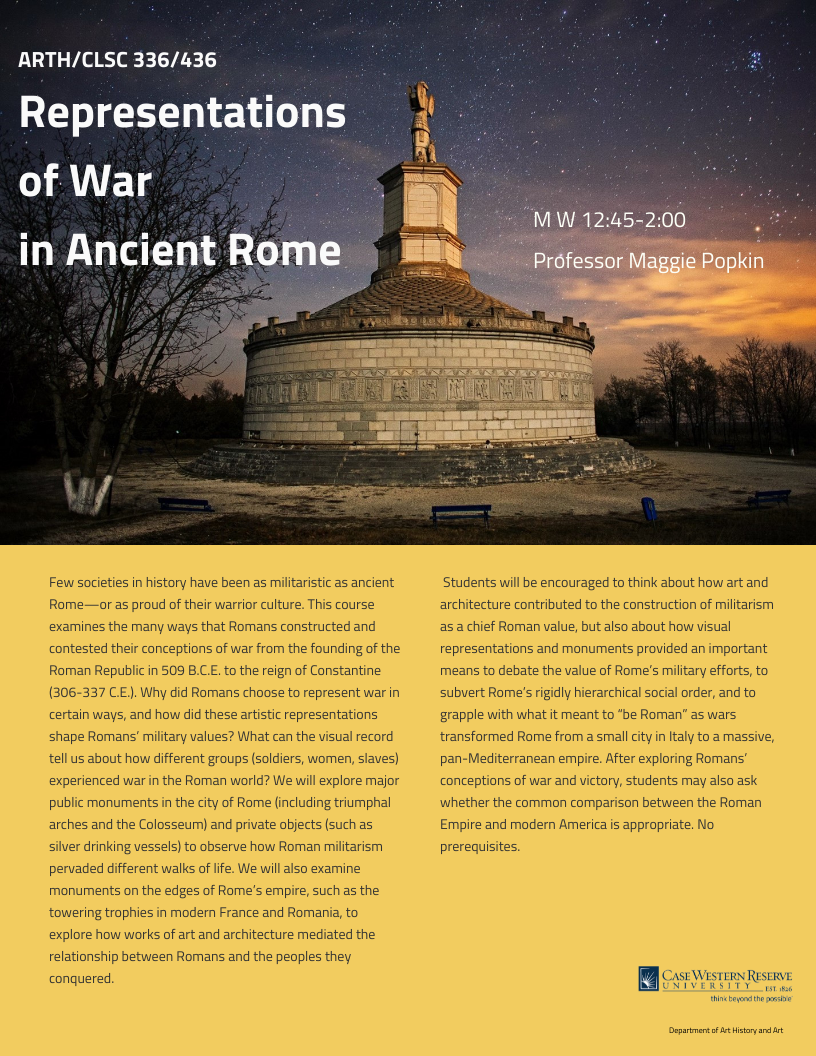 ARTH 358/458
MEDIEVAL BODY
Prof. Elina Gertsman
T/TH 1pm – 2:15pm
This course will explore the meanings and representations of the body in western medieval culture. Topics will include bleeding bodies, fragmented bodies, lactating bodies, labile bodies, cosmic bodies, physiological bodies, mystical bodies, suffering bodies, edible bodies, enclosed bodies, gendered bodies, Christ's bodies, Mary's bodies, decomposing bodies, macabre bodies, resurrected bodies, dead bodies, intercessory bodies, unhinging bodies, translucent bodies, martyred bodies, desirable bodies, desirous bodies, abhorrent bodies, mimetic bodies, nude bodies, marginalized bodies, de-fleshed bodies, social bodies, political bodies, monstrous bodies, mnemonic bodies, and deformed bodies. We will discuss the complex rhetoric of embodiment as it manifests itself in the ambiguous discourse—both medieval and contemporary—on the relationships between the material and intangible, spiritual and physical, somatic and mental, corporeal and ethereal.
This interdisciplinary course will teach students to read and critically discuss primary and secondary sources, and to navigate the complex terrain of visual and verbal representation of the body in later medieval art. Regular attendance at seminar meetings and participation in discussions will allow students to develop the critical language necessary for analyzing the themes of the course and for applying it to specific examples of medieval visual and material cultures. Oral and written assignments are designed to introduce and develop various methods of visual analysis and critical thought.
ARTH 379/479
ISSUES IN 19TH CENTURY ART: VICTORIAN AVANT-GARDE: PRE-RAPHAELITES, AESTHETICISM, AND THE ARTS-CRAFTS MOVEMENT 
Prof. Andrea Rager
T/TH 11:30-12:45
In recent years, a wealth of new scholarship has emerged not only contextualizing Pre-Raphaelitism, Aestheticism, and the Arts & Crafts Movement within the rich visual culture of Victorian Britain, but also arguing for a reconsideration of these movements as occupying a leading role in the nineteenth-century artistic avant-garde.  Employing both primary source texts and subsequent critical scholarship, this course will survey the work of the original Pre-Raphaelite Brotherhood of 1848 (including Dante Gabriel Rossetti, William Holman Hunt, John Everett Millais, and Ford Madox Brown) from their brief years of artistic cohesion through their subsequently diverging careers.  We will consider the intersection between Pre-Raphaelitism and the late-Victorian movement of Aestheticism under the rubric of "art for art's sake," focusing in particular on the work of Edward Burne-Jones, William Morris, May Morris, Walter Crane, James McNeill Whistler, and G. F. Watts.  We will also consider the relationship of the international Arts & Crafts movement to Pre-Raphaelitism, investigating the long lasting legacy of design reform that still reverberates today.  We will contextualize these movements within contemporary technological developments (particularly photography), scientific discoveries, the social conditions of modern life, art historical revivalism, religious and political reforms, industrialization and the environment, and the British global imperial project.  We will also dedicate particular attention to issues of gender, race, sexuality, and class.  This course will include frequent visits to the galleries and Art Study Room of the Cleveland Museum of Art.  We will also incorporate sites around Cleveland, including Louis Comfort Tiffany's window and mosaics for Wade Chapel.
ARTH 495
METHODOLOGIES OF ART HISTORY 
Prof. Elina Gertsman
T 10:00 – 12:30
ARTH 495 is a writing- and discussion-intensive methodology course, open only to first-year graduate students in the department.
Besides offering a synoptic view of critical theory and something of a smorgasbord of various art historical methodologies, the course will focus on sharpening your abilities
to look and read critically;
to do research effectively;
to write and edit research papers;
to understand and use the many tools of art historical analysis;
to use sophisticated art historical vocabulary (as opposed to jargon);
and to construct successful oral presentations.
Please understand that this is not a survey of art history's history or a comprehensive overview of every method available to art historians. The larger goal of this course is to engage you with new ways of thinking and writing about art and its history.
I hope that over the course of this semester, you will realize your own voice as a writer within our field's larger discourse.
ARTH 552
AMERASIA IN THE EARLY MODERN IMAGINARY
PROF. ERIN BENAY
T 2:30-5:00
Frequently referred to as the Indies in textual sources, the disambiguation of Asia from the Americas arguably did not become a major project until the eighteenth century. Instead, in early modern Europe, and in Italy in particular, the integration of (mis)information about the Americas and Asia resulted in a geographical continuum now referred to as Amerasia.
This graduate seminar will explore the ways that images and objects worked in concert to shape perceptions of the so-called New World and the Asian continent.  
We will consider maps, illustrated travelogues, frescos, paintings and prints alongside decorative objects such as feathered headdresses, weapons, and carved coconut cups in order to interrogate the place of material culture in the formation of knowledge.
Readings will be drawn from art history, anthropology, and sociology and will highlight decolonial methodologies for understanding racial representation and the history of collecting.
Image: Hans Burgkmair, The King of Cochin, 1508, woodcut
ARTH 570
SEMINAR IN 19TH CENTURY ART: THE KEITHLEY COLLECTIONS IN FOCUS 
Prof. Andrea Rager
W  2:15pm-4:45pm
This seminar will center around the exhibition, The Keithley Collection, on view at the Cleveland Museum of Art from September 11, 2022 to January 8, 2023.  This unique exhibition celebrates the extraordinary gift and promised gift of art made by Joseph P. and Nancy F. Keithley to the CMA, which included more than 100 works.  During their more than two decades of collecting, the Keithleys sought to build on and complement the existing strengths of the CMA collections, with a particular focus on Impressionist, Post-Impressionist, and modern European and American paintings.  The exhibition will also include a selection of European and American decorative arts and Chinese and contemporary Japanese ceramics.  This seminar will offer students the opportunity to work closely with curators and staff of the CMA, including a guest lecture from exhibition curator Dr. Heather Lemonedes Brown, Deputy Director and Chief Curator of the CMA, and discussions with the Keithleys themselves.  The course will also feature guest lectures by leading scholars responding to objects included in the exhibition.  Topics will include close examination of individual works and artists on view in the exhibition, as well as consideration of broader issues in collecting, patronage, and exhibition design.  Final projects will respond to a chosen art object or objects on view in the exhibition, many of which have not received prior significant scholarly attention.
Image: Henri-Edmond Cross, The Pink Cloud, c.1896, oil on canvas, unframed: 54.6 x 61 cm (Cleveland Museum of Art: Nancy F. and Joseph P. Keithley Collection Gift, 2020.106)