ARTH 101                                                                                                       
PYRAMIDS TO PAGODAS
PROF. CATHERINE SCALLEN                                                                          
MWF 10:35-11:25
Prehistoric cave paintings, Egyptian pyramids, the Colosseum in Rome, Byzantine mosaics, Chinese scroll paintings, Hindu temples, Mayan sculptures, Chartres Cathedral.   ARTH 101 is a broad-ranging course –– geographically and chronologically –– which highlights the major artistic monuments created throughout the world from the Paleolithic era up to the start of the fifteenth century. Students will learn how to look at, discuss, and write about works of art, considering such issues as how historical and cultural contexts shaper the meaning, appearance, and function of art, and how artistic concepts and styles develop and change over time and in different world regions.  Format: two weekly lectures and once a week discussion sessions in the Cleveland Museum of Art will provide time to look at and discuss art works and review concepts and prepare for examinations and paper writing.  Requirements: Two short papers, two in-class tests, a final examination and participation in discussions and assignments in the small group sessions.
Required text: Marilyn Stokstad and  Michael W. Cothren, Art History, vol. 1, 6th edition, 2018.

ARTH 284
HISTORY OF PHOTOGRAPHY
PROF. ANDREA WOLK RAGER
TTH 11:30-12:45
This course will examine the invention, development, and proliferation of photography in its artistic and cultural contexts, from the advent of the daguerreotype in 1839 to the ubiquity of the digital image today.  Through the close study of significant photographers, photographic technologies, and individual photographs, we will consider issues of politics, gender, nationalism, imperialism, globalization, and class intrinsic to the medium.  We will also explore several pervasive themes throughout the history of photography, including: the tension between indexical knowledge and artistic expression in defining the nature, interpretation and role of photography; the struggle for photography to gain legitimacy as an artistic medium; the artifice inherent in the photograph as self-evident document; the rise of photography in the construction of personal and collective memory; the democratization of the photographic image and the development of amateur practice, as well as the burden of representation and visual surveillance; and the commodification of photography and its function in mass popular entertainment.  Supplementing the course textbook, this class will also employ various primary source documents and a range of theoretical texts in order to explore diverse approaches to the medium from its inception to the present.  Class sessions will be a mixture of lecture and in-class discussion of readings and images.  In addition, several classes throughout the semester will take place in the study room and galleries of the Cleveland Museum of Art, as well as the Western Reserve Historical Society, where we will be introduced to a selection of their rich holdings of photographic works, while gaining the tools of first-hand visual analysis.
Course Requirements: one in-class presentation; two short papers; in-class mid-term examination; take-home final examination.
Required Texts: Mary Warner Marien, Photography: A Cultural History 4th ed. (Prentice Hall, 2014) ISBN-10: 0205988946 [paperback]
Alan Trachtenberg, ed. Classic Essays on Photography (Leete's Island Books, 1980) ISBN-10: 091817208X
Additional required readings will be posted to Canvas.
Recommended text: Gordon Baldwin, Looking at Photographs: A Guide to Technical Terms Rev. Ed. (J. Paul Getty Museum, 2009) ISBN-10: 089236971X

André-Adolphe-Eugène Disdéri, Monsieur Merlen, 1861, Albumen print from wet collodion negative, uncut carte-de-visite proof print, Image: 19.9 x 23.1 cm, 1995.179
ARTH 286
INTRODUCTION TO CONTEMPORARY ART
PROF. EUNYOUNG PARK
T/TH 1:00-2:15
This course will explore contemporary art since 1945 by tracing key art movements and the careers of significant artists in relation to cultural, social, geopolitical, and theoretical changes. The first part of the course will investigate major artistic practices in the United States and Europe, including Pop Art, Minimalism, Conceptual Art, Performance Art, Feminist Art, and Activist Art, by analyzing a range of issues, such as the relationship between high art and mass culture, challenge to the idea of authorship, expansion of the institutional boundary, the impact of sociopolitical activism in the art world, and art's relation to space and audience. The second part of the course will investigate the global shift in contemporary art that began in the late 1980s and will explore issues related to post-modernism, post-colonialism, and globalization. The second part of the course will especially introduce art from Asia, Africa, and the Middle East beyond the Euro-American centric perspective. Visits to the Cleveland Museum of Art will form an integral part of the course.
Andy Warhol, Marilyn x 100, 1962. CMA
ARTH 329/429
MARVELS OF ROME: MONUMENTS AND THEIR DECORATION IN THE ROMAN EMPIRE
PROF. MAGGIE POPKIN
T/Th 10-11:15
This course examines some of the most famous monuments of the Roman Empire, including Nero's Golden House, the Colosseum, the Pantheon, Hadrian's Villa at Tivoli, and the lavish villa of Piazza Armerina in Sicily. We will study each monument in depth, delving into the architecture, paintings, sculptures, mosaics, and social functions of each monument. Students will be introduced to the analysis of artistic and archaeological evidence, ancient textual evidence (poems, prose, and inscriptions), and secondary scholarship to reconstruct the visual appearances and historical and cultural contexts of the monuments in questions. Throughout the course, students will gain a new appreciation and deeper understanding of some of the most iconic buildings of the classical tradition, as well as the role of architecture and concepts of monumentality in Roman society.
ARTH 360/460
RENAISSANCE ART IN NOTHERN EUROPE Ca. 1380-1570
PROF. CATHERINE SCALLEN
MW 12:45-2:00
The visual arts of the fifteenth and sixteenth centuries participated in the widespread social and political changes in northern Europe in what is today Belgium, The Netherlands, Germany, and France.  In this course we will examine both the work of pioneering individual artists, such as Jan van Eyck, Hieronymus Bosch, Albrecht Dürer and Pieter Bruegel, and larger themes such as patronage and the rise of the art market, the invention and dissemination of prints, the development of new subjects in art (landscapes, scenes of daily life) and the use of art for political propaganda and religious devotion. We will visit the galleries and Art Study Room of the Cleveland Museum of Art to see paintings, prints, drawings, and sculpture to see Northern Renaissance art works in person.
Requirements for 360:  two critiques of articles read for class discussion, a research paper of 8-12 pages, oral presentations on the research project, final examination, participation in class discussions.
Requirements for 460:  Same as for 360, with a longer (ca. 15-20 page) research paper and three critiques of assigned readings. Graduate students are expected to participate in class discussions at a higher level.
The course readings will consist of articles, book chapters, and exhibition catalogues that will be scanned and posted on Canvas.

ARTH 363/463
GOING FOR BAROQUE: EARLY MODERN ART IN THE AGE OF GLOBAL EXPANSION
PROF. ERIN BENAY
T/TH 2:30-3:45
This course explores the art of the seventeenth and eighteenth centuries, an era of rising nationalism, political aggrandizement, religious upheaval and extravagant art patronage through the lens of global expansion.  Artists like Caravaggio, Bernini, Velazquez, and Rembrandt negotiated emerging tensions between naturalism and idealization, court and city, public and private, and church and secular patronage.  Grand commissions vied with the new culture of open-air markets, and collectors squirreled away magnificent paintings, sculptures, and prints alongside dried specimens of natural history in their cabinets of curiosity.  These changes in artistic style, systems of patronage, and cultures of connoisseurship were further complicated by global expansion, foreign trade networks, and the establishment of Christian missions in posts from Japan to the New World.  Students will study these thematic issues across Europe, Asia, and the Americas, in an attempt to better understand the dichotomy of extravagant consumption and unmitigated brutality that prevailed at the start of the modern age.
Requirements: A series of short reflection papers; a longer 8-10-page research paper; an in-class presentation. Graduate student requirements upon request.
Required Text: Gauvin Bailey, Baroque and Rococo (Phaidon Press, 2012) ISBN-10: 0714857424 all additional required reading will be posted to Canvas.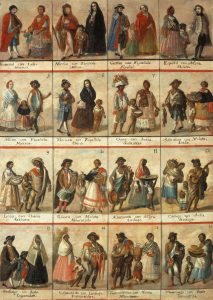 ARTH 386/486
THE MYTH OF THE COWBOY: COWBOYS, INDIANS, AND THE AMERICAN WEST
PROF. HENRY ADAMS
T/TH 10-11:15
In a famous essay, Frederic Jackson Turner argued that "the frontier" has been the central shaping force of American history.  This class will look at the central mythic figure of the frontier, the American cowboy, as he has been pictured in novels, paintings and the movies.  How did "The Myth of the Cowboy" take form?  We will examine the creation of this distinctively American myth by the writers Owen Wister and Theodore Roosevelt and the illustrator Frederic Remington, and examine how this formula has evolved over time, in novels, paintings, and perhaps most notably in the movies, where it has been expressed in "classic," "adult," and "self-conscious" forms, and finally culminated in "The Western as self-parody."  We'll ask what the cowboy myth tells us about American manhood, about individualism, about conflicting ideals of justice, about how to swagger and look cool, about gay and straight, and about our ambivalent feelings towards heroes.
ARTH 395
INTERNSHIP
This course is designated for undergraduate students seeking professional experience in art history.  It focuses on the museum experience (registration, exhibition, interpretation, and administration) although students may also elect to conduct internships in museum-related environments such as art conservation.  Students are encouraged to have gained significant experience in art history coursework before embarking on an internship. Students must identify an internship and supervisor as well as a faculty supervisor the semester before enrolling in the internship.
ARTH 398
INDEPENDENT STUDY IN ART HISTORY
Individual research reports on special topics.  Consent of supervising Professor and permit is required.
ARTH 399
HONORS THESIS
Consent of supervising Professor and a permit is required.
ARTH 490A                                                                                                        
VISUAL ARTS AND MUSEUMS: FINDING AND MAKING MEANING IN THE 21st CENTURY ART MUSEUM
FRIDAY 10-12:30
PROF. HOLLY WITCHEY
Course Description and Objectives:  This course examines the idea of the art museum in both its historical and contemporary manifestations. The art museum is a rich topic; this course focuses on collecting, exhibiting, and interpretation practice in the United States with some forays into museums on other continents for comparative purposes. We will have discussions with curators, educators, and conservators and go on visits to museum galleries and special collections. Students will become familiar with the following topics: the historical development of the museum; the development and care of a collection, including acquisition, cataloging, conservation, display, and housing of individual object; the study and interpretation of the collection/exhibition for diverse audiences; and the role of the museum professional in the workplace and in the governance of an institution that cares for material culture including project management, finance, and administration
Through the study of these topics, students will develop a better understanding of the art museum as a place for community conversations, learning, research, invention, and innovation.  Students will also develop a deeper appreciation for museum professionals as representatives of trusted institutions and stewards of global material culture.
This is a two-semester, academic year course for first-year M.A. candidates in art history and museum studies.  At the end of the two-semester sequence, students will be prepared to undertake a professional-level internship.  In addition, through course assignments, students will gain proficiency in written and verbal expression and deepen skills in critical thinking, analysis, and problem-solving.
ARTH 491
VISUAL ARTS AND MUSEUMS: INTERNSHIP
PROF. HOLLY WITCHEY
Consent of supervising Professor.  Prerequisite: ARTH 490
ARTH 494 (A-F)
DIRECTED READINGS
Consent of supervising Professor and a permit is required for all Directed Readings BEFORE registering.
A: Non-Western Art
B:  Ancient Art
C: Medieval Art
D: Renaissance and Baroque Art
Baroque Art
E: American Art
F: Modern Art
ARTH 495                                                                                           
METHODOLOGIES OF ART HISTORY
TUESDAY 11:30-2:15
PROF. ELINA GERTSMAN                                                      
ARTH 495 is a writing- and discussion-intensive methodology course, open only to first-year graduate students in the department. Besides offering a synoptic view of critical theory and something of a smorgasbord of various art historical methodologies, the course will focus on sharpening students' abilities to look and read critically; to do research effectively; to write and edit research papers; to understand and use the many tools of art historical analysis; to use sophisticated art historical vocabulary (as opposed to jargon); and to construct successful oral presentations. This is not a survey of art history's history or a comprehensive overview of every method available to art historians. The larger goal of this course is to engage students with new ways of thinking and writing about art and its history.
"Methods for Life," courtesy Ben "Benhamin" Levy
ARTH 545
THE BREATH OF ALL THAT LIVES: TOPICS IN MEDIEVAL JEWISH ART
THURSDAY 11:30-2:00
PROF. ELINA GERTSMAN
This seminar will explore late medieval Jewish art from western Europe and beyond. The first part of the seminar will focus on broad historical and historiographic issues in Jewish visual culture; topics will include, inter alia, issues of word and image, problematics of representation, the iconoclastic argument, and anti-Jewish polemic. In the second part of the course we will look at the great variety of later medieval Hebrew books: illuminated Bibles, commentaries, theological treatises, liturgical books, scientific works, etc. Finally, we will conclude by focusing on one type of liturgical book, the Haggadah, and explore its many manifestations in both Sephardic and Ashkenazi contexts. By way of a coda, we will look at late medieval Yiddish books. Several guest speakers—leading authorities on these woefully understudied topics—will Zoom in during the course of the seminar. This is a very challenging class, in which students will be expected to read both primary and secondary sources in order to familiarize themselves with the complex and fraught landscape of studies in medieval Jewish art.
ARTH 571
SEMINAR IN CONTEMPORARY ART: BODY AND IDENTITY IN FLUX
WEDNESDAY 2:30-5:15
PROF. EUNYOUNG PARK
This seminar explores global contemporary artists who have responded to the increase in migration, global mobility, and cross-cultural exchange based on their individual personal experiences and sociocultural backgrounds. Over the last three decades, there has been an increase in the movement and exchange of goods, information, and capital due to globalization and sociopolitical change, and people have migrated from one country or culture to another for economic, political, religious, educational, and cultural reasons. This seminar explores global contemporary artists who, since the late 1980s, have experienced the increase in trans-national movement and cross-cultural exchange and have responded through various mediums, materials, and cultural sources. The focus is especially on artists who have chosen the body as a means of investigating migration, displacement, and global mobility and artists who have delved into the unstable, shifting, contested nature of ethnic, racial, cultural, and gender identities. Through case studies of representative artists, the seminar will also review and analyze theories and discourses on migration, diaspora, identity, post-colonialism, and globalization.
Simone Leigh, Las Meninas, 2019. CMA
ARTH 601
RESEARCH IN ART HISTORY
List name of supervising Professor.
ARTH 610A
ADVANCED MUSEUM STUDIES INTERNSHIP
List name of supervising Professor
ARTH 701
DISSERTATION PhD
List name of supervising Professor.